Looking to purchase a historic home and clueless on how to decorate it? No worries, we've got a guideline on how to approach your new home, and how to keep it classic, or how to modernize it.
Keeping it Classic
1. Wall Colors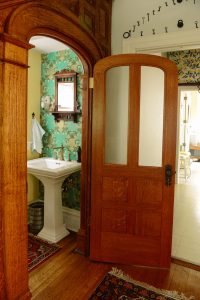 If you have recently purchased a historic home that needs a little work, painting the walls and trim is a great first step. When you are trying to restore your historic home to it's beautiful past it is a great idea to look to the period. In addition to that, you may want to assess the damage to the walls and trim. If there is a good amount of damage, you may want the trim to be the same color as the wall in order to not draw extra attention. If your trim is in good condition, I recommend painting it a neutral contrasting color. Here is a great place to go to start your research, or even find your colors: Interior Historic Color Palettes. 
2. Choose Conservative Traditional Furniture
As with everything in society, furniture has gone through many transitions throughout the years. In order to keep your historic home classic feel, you may want to choose furniture that echos it's past. Early American furniture is not particularly difficult to find, but you may find yourself feeling slightly lost while browsing. I found an amazing guide to the first half of the 20th century here. This guide goes into the broad aspects of the styles, as well as the specific det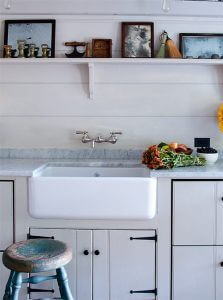 ails. I think that you can probably get away with choosing one style that goes best with your home, and then moving forward throughout the home within that era. You may want to go in between a couple styles, but overall I would try to stick to similar styles to keep a cohesive decor in your historic home.
3. Accent Pieces & Drapery
Look at historic homes, online or tour, and see how they have been renovated. Drapes make a huge statement inside the home, and you will likely have them custom made to your specific windows within your home, and color palette will guide these as well. Accent pieces may include antique items that hark back to the time your home was built that are likely to spark conversation. These may take a little bit of searching for, but if you enjoy history could be quite an exciting time in your decorating process. Hone in on pieces you find interesting and beautiful.
Tastefully Modern Historic Home
1. Wall Colors
Modern: Simple, sleek, sophisticated. It can truly be magnificent when your historic home is renovated and seamlessly blends the modern interior. In all honesty, most modern paint palettes are beautifully subdued: grey's, taupe's, and white's. (With the occasional pop of color!) Whereas in some of the period palettes you will find stunningly bright colors within them, modern palettes tend to be quite simple, and with little variety in hues. This makes for a great backdrop on which to decorate, where a painting will speak volumes against it's simple backdrop. Quality over quantity also makes sure that each piece within the modern home will be able to stand alone. Here's a few: Modern Paint Palettes.
2. Choosing Modern Furniture
Unlike classic furniture, the modern furniture you use may fluctuate between decades. The key to keeping your modern home looking beautiful is to keeping it simple. You certainly do not need an excess of furnishings for your historic home, just a few beautiful statement pieces. An empty house and a cluttered house are both easily accomplished; the goal is to find the perfect balance of pieces to flow through your historic home. Danish modern?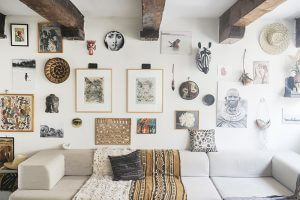 Art Deco? Contemporary? Check it all out, feel free to incorporate vintage items into your modern decor as well. Feel free to use Pinterest to help guide your style.
3. Window Treatments & Accent Pieces
Beautiful floor length drapes or custom in-window blinds are simply two options for window treatments in your historic home. The preferred window treatments in your home is going to be guided by your stylistic details within the home. As for accent pieces, this is truly your place to insert your personal style and interests. The exciting part about finding pieces for your modernized historic home is that the mix of modern and vintage pieces is going to be ideal for creating an eye-catching space. You need not stick to one decade or another, but the weathered pieces against the new will create a unique space that keeps everyone talking.