Many home buyers are drawn to historic homes over newer, more cookie-cutter houses because the architecture and design provide character and class. But for many historic home owners, a unique, older house also means a much higher energy bill. Historic homes bring so many advantages, but if you don't invest some time and money in weather-proofing the house, your historic dream home can end up being costlier than expected. Luckily our guide makes it easy for you to update your historic home to make it more energy-efficient – without interfering with the charm of the original design!
Changes to Avoid Making to Historic Homes
In many ways, homes built before 1940 are more energy-efficient than modern homes. Since these homes were built before electricity was widely available, they made use of natural methods of heating and cooling the home. The placement of windows and the use of shutters and masonry on historic homes all improve their energy efficiency. Because historic homes have certain efficiency advantages already, homeowners should avoid making certain "fixes." Avoid making these changes to your historic home:
Do not install dropped ceilings.

Do not try to waterproof your masonry. Thick masonry is already very energy efficient, and a waterproof coat will actually trap moisture and damage the stone. 

Do not remove historic, natural wood and replace it with a less efficient substitute, like plastic or plywood. These materials deteriorate more quickly, and the house would actually be more efficient with the original materials in place.

Do not try to remove historic windows.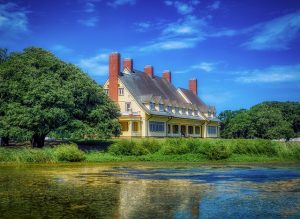 Improving the Efficiency of Historic Home Exteriors 
While historic homes were often designed to be more efficient in certain ways, they nonetheless need to be weather-proofed according to your climate. These updates to the exterior won't change your historic home's character, but they will go miles toward improving its energy efficiency.
Insulate, insulate, insulate! If it's difficult to add insulation to the walls of your home, add insulation to the attic and, if possible, to crawlspaces. 

Weather-strip all doors and windows to reduce leaks. 

If the historic windows are intact, supplement them by adding storm windows. If the windows are damaged and can't be repaired, replace them. 

In colder climates, add storm doors to improve your energy efficiency.
Interior Design Changes for Energy Efficiency
While weather-proofing the exterior of your historic home will probably be the first step in increasing your home's efficiency, there are also changes you can make inside. While some of these changes require an electrician, many just require switching the products you use.
Switch out all incandescent light bulbs for more efficient LED or compact fluorescent (CFL) bulbs. To be even more efficient, install motion sensor light switches that shut the lights off when no one is in the room.

If the kitchen hasn't been completely renovated, replace any older appliances with Energy Star-rated versions.

Replace toilets and showerheads with low-flow versions to save over 75% on your water usage.