Spring is here and summer is approaching fast. The blooms are coming out in full force and if nothing else, historical homes are known for their gardens. Take a walk through any historic neighborhood in Virginia and you will see Dogwoods, Cherry Blossoms, and even some old Magnolia Trees. In my opinion, Virginia is one of the most awe-inspiring states because of its mountains, streams, lakes, and ocean front as well as it's historic areas and modern areas. There is something for everyone in the state and it has more than its share of history.
Garden Weeks and More
As I mentioned, historic homes usually have beautifully planned out gardens that beckon to a time past. Throughout the state, there are garden weeks hosted by Garden Clubs where you can have a chance to stroll through the wonderous sites and smells of gardens all around.  Usually just a small fee, it grants you access to all gardens participating and while you might not be able to make all of them around the state, you should be able to go to quite a few local or take a day trip somewhere like Richmond to enjoy many in a small local.
Gardens for Everyone
By viewing garden week, you have a chance to see a multitude of different gardening styles that dot Virginia. For example, Jefferson's estate once grew about 105 different species of flowers! Besides flowers, there are other styles that might suit you more. There are the basic vegetable gardens and herb gardens of course, but if you want something a little bit more, there are other types too! Two of my favorites that have been around the longest are below.
Greenhouse Gardens

: once considered the pinnacle of wealth in historical homes, they are amazing for growing plants effectively throughout the seasons.

English garden:

after becoming popular in the early 18

th

century in England, it spread across Europe as well as the US, especially in Virginia.  English gardens usually include a water feature as well as rolling lawns set against well-landscaped trees and shrubs. In a way it a utopian look at nature where everything has a place and is organized.
Beautiful and Historic… Trees?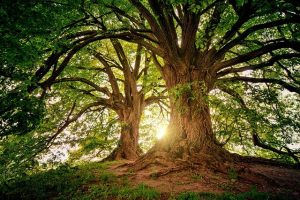 Another wonderful bonus about historical neighborhoods and homes is that they have many mature trees. I feel large old trees are often overlooked as so many of the trees we see in new neighbors are practically saplings compared to trees in historic areas. I'm not talking the great Redwoods in California, I'm talking trees such as the Tulip Poplar trees, like those that tower over Monticello or the Cherrybark Oaks and Willow Oaks that are found throughout the state. Sitting in the shade of a large tree on a hot afternoon is quite a treat and one that shouldn't be denied.
Historical homes have so much to offer inside and out. The attention to detail be it the indoor crown molding or the outdoor terrace or gardens is a lot to keep up but it's so worth the time and work to bring beauty back to an older home.