To live in the state of Virginia is to be surrounded by history. Here you can wander through historic cities such as Williamsburg, Waterford and Yorktown that will transport you back in time. In Virginia you can also tour individual homes that were owned by the people who created that history or you can purchase and live in an historic home of your own. Below we will look at 5 historic homes that belonged to trailblazers and innovative thinkers. Who knows you may just be inspired to buy a historic home of your own. 
Carlyle House
The Carlyle House is located in the Old Town area of Alexandria, Virginia and was completed in 1753. John Carlyle, the owner, was a very influential and wealthy man during the 18th century and is in fact the founder of the city. His home sits on 2 – 1/2 acre lots that were the most expensive due to their central location between the Potomac River and Market Square. The home is one of the finest examples of Georgian residential architecture in Virginia and was the center of social and political life in Carlyle's time. Visit this historic home and you will be entertained by costumed actors who bring Carlyle's family's day to day to life alive.The grounds include a 3/4 acre garden full of the plants and ornamentation that Carlyle would have had access to during that time. The garden has brick walkways, benches, boxwood parterres (formal gardens laid out in a symmetrical pattern) and a lovely cutting garden. It is a beautiful place to escape the hustle and bustle of city life.
Maggie L. Walker House 
The Maggie L. Walker House is located at 110 1/2 E. Leigh Street in an area known as "Quality Row" due to the outstanding achievements of the residents who lived there. Quality Row is located in the Jackson Ward neighborhood in Richmond, Virginia. The home was built in 1883 by architect George Boyd a former slave who was inspired by the architecture that he saw in Italy. Maggie bought the home in 1904 and lived there with her family until her death in 1934. Her home inspired her guests to great achievement as they were lavished with the most opulent decor that Maggie could afford. As an accomplished African American woman who was the child of slaves, Maggie was a savvy business woman who spoke out against racial injustice. In 1903 she broke through gender and racial barriers by becoming the first African American woman to establish and become president of a bank.
John Marshall House 
The John Marshall House is located at 818 E. Marshall Street in the fashionable Court End district of Richmond, Virginia. The brick home was built in the Federal Style in 1790. The home with its multiple outbuildings which included a law office, kitchen, laundry and stables took up an entire city block. John Marshall, appointed by president John Adams, served as chief justice of the United States and was known as "the Great Chief Justice" for his role in creating the modern Supreme Court. A visit to this home is a walk through Supreme Court history but take some time to enjoy the historic garden attached to the house. The plants displayed there are plants found in the colonial gardens of Williamsburg and Yorktown in that time period. It is a delightful area to take a short rest and enjoy some natural beauty. 
Morven Park
This 1,000 acre estate is located in Leesburg, Virginia. The home was built in 1780 and the architecture is Greek Revival. This lavish estate was home to Thomas Swann who was governor during the civil war and then to Westmoreland Davis who was governor during WWI. He and his wife were the last private owners of Morven Park. Now Morven Park is a non-profit whose gardens are open to the public 365 days a year. Morven Park is known as the "Central Park " of Loudoun County and activities in the park include hiking, museum tours, equestrian events and sports such as Polo.  
Mount Vernon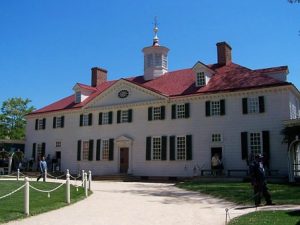 Mount Vernon is the former plantation home of our very first president George Washington. It sits on 500 acres of land on the banks of the Potomac River located in Fairfax County, Virginia. The home is Neoclassical architecture and is 10 times the size of the average home found in Colonial Virginia. Although lavish in size, the Washingtons preferred simple decor and their lovely bedroom is a testament to this aesthetic. In addition to the beautiful family home, Mount Vernon has 4 gardens for you to explore. The upper garden is the formal garden of the estate and was created for the enjoyment of Washington and his many guests. This beautiful garden showcased Washington's skill as a gardener and has a gorgeous, functional greenhouse that serves as a focal point. The Lower garden was the kitchen garden and was overseen by Martha herself. The Botanical Garden was a private garden for Washington's personal enjoyment. Here he experimented with new plant varieties. Finally, there is the fruit garden and nursery. What began as a vineyard quickly morphed into a 4 acre fruit garden and nursery when all the grapes died. 
Virginia is rich in history – it lives all around us. When planning a visit to the historic homes in the area keep these in the forefront of your mind. The choice is yours, will you visit the home of a trailblazing activist, a forward thinking supreme court justice, experience life of an influential and wealthy colonial family and Virginia Governors or take a stroll through the home and gardens of the Father of our country? Whatever you choose, history will surround you.